"Securing the World,
ONE CLIENT AT A TIME

"
Leaders in Computerized Key Management, Surveillance,
Access Control, Guard Patrol Systems and Tamper Proof Key Rings

A one stop Physical Security Solutions Firm whose areas of specialization include; Electronic Key Management; Secure Asset Control; DVR/NVR, LPR, IP Cameras; Access control; Guard Patrol; Face recognition systems; an extensive assortment of biometrics; Digital Time and Attendance; asset tracking through RFID and GPS; Custom gates; and complete low voltage wiring including Fiber-Optic
We handle very diverse security projects on every scale and customize our products to accommodate our clients needs.
KeyGuard
Key management system
by Pacific Watchman Inc.

Raising the Bar in Key Management
The KeyGuard key management system has a
well-thought-out design that provides more than
threefold reduction of the space for wall mounting,
while simplifying the procedure of handing out
keys using the LED illumination of the key storage
compartment, which significantly reduces the
handing out time. The appearance of the case and
its minimum depth allows it to harmoniously fit
into the modern office space. The key management
system has enhanced control capabilities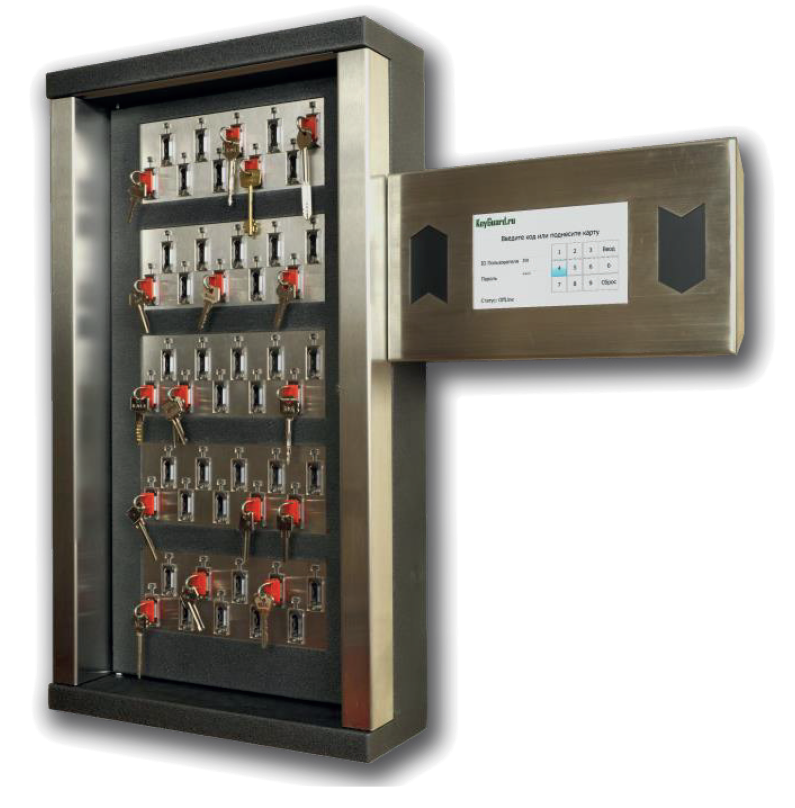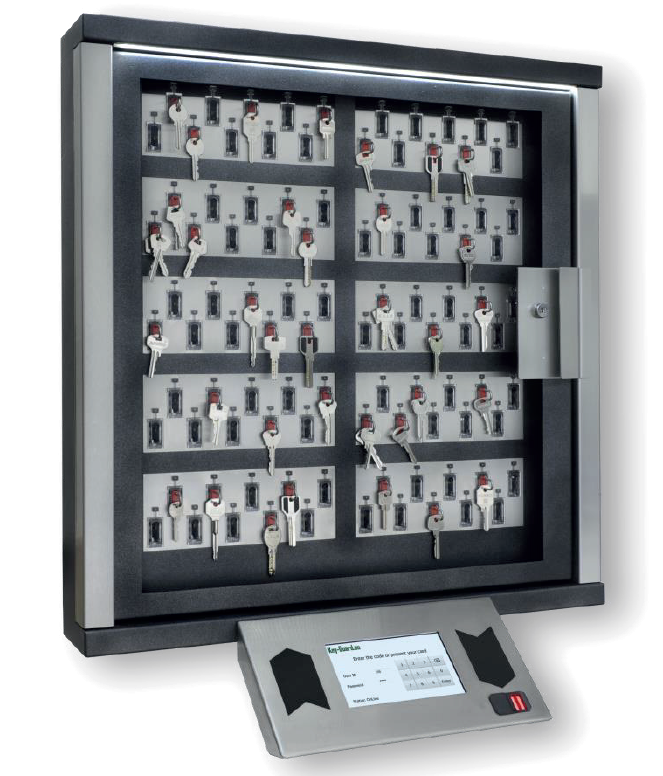 KeyGuard is designed with the ability to interact with your
security systems. The interaction protocol is open for integration partners, which allows implementing communication of
the systems at any level.
For example, when integrating with a security alarm system,
it is possible to fully automate the arming/disarming process
when the key is handed in/ out.
The corresponding confirmation can be displayed directly on
the key storage system display.
The system has a modular structure principle. You can
order a system of any size starting from 10 keys, or expand it later to several hundred keys. You can also install
several systems in different parts of the building, and
connect them through a single software.
It is possible to supply a system with a solid metal door,
transparent polycarbonate door, or without a door at
all. The control panel can be fixed either below or on the
right side. Both brackets are included in the delivery set.
The keys are attached to intelligent keyfobs that have
a built-in chip with a unique identifier and a threemillimeter stainless steel shackle. The data from the
built-in chip is used to verify and identify the key every
time you need to remove the key from the storage or
put it back to its place. Only authorized users, whose
rights are assigned individually, can have the access to a
key. Keyfobs of different colors are available for order.
In order to increase security, it is possible to use key
boxes to store keys. In this case, the keys are also
attached to intelligent key fobs with a unique chip, and
then the key with the key fob is inserted into a box,
which can be sealed in the standard way. The delivery kit
can include standard-size boxes (70 mm) and elongated
boxes for long safe keys of up to 105 mm long (the size
from the center of the hole to the tip of the key).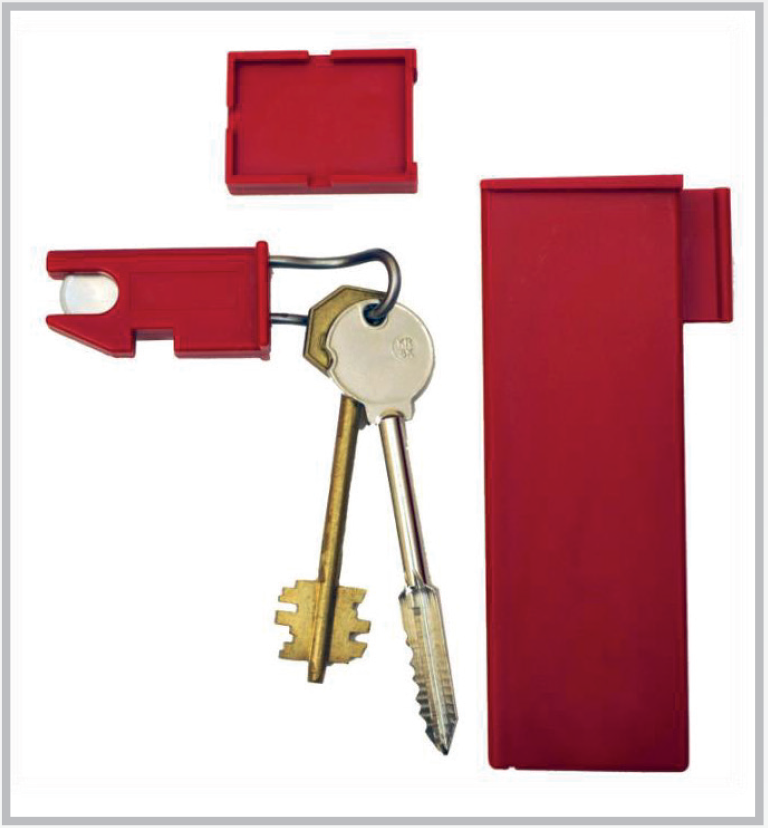 A large touch screen allows not only to manage
the key storage system simply and easily, but
also to quickly get any information you are the
key and when, or which key storage within the
site contains an actual key. You can also generate
and print reports of any kind with the software
provided in the kit.
Two Wiegand readers (hand in/ hand out) and
a fingerprint reader from the world leader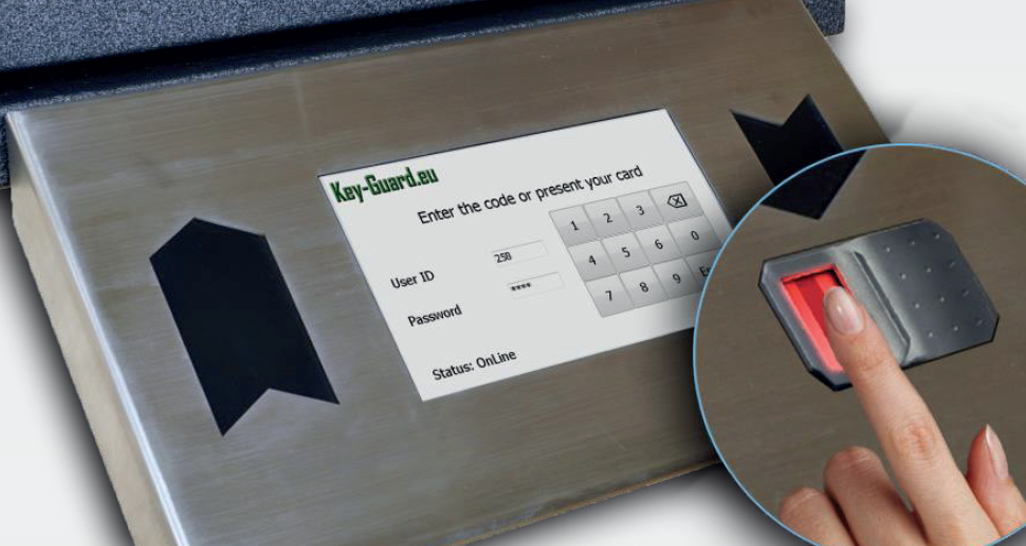 in biometric technologies of the French company Morpho Safran are integrated into the display case. The system allows access to the key storages without entering any additional information – all you need is a card or a fingerprint. When integrating with security alarm systems, messages from the security alarm can be displayed on-line. In particular, object protection status and confirmation of zone installation/ removal.
USER FRIENDLY WINDOWS SOFTWARE
The software (included in the package) provides
UP TO 2000 KEYS IN THE SYSTEM
GUARD TOUR CHECKPOINT SYSTEM
The MADDOXON Guard Tour System is an essential tool which monitors if employees assigned to a tour patrol task are completing their duties on time and at their correct locations. In summary the system makes it possible to know where and when the patrols were made.

The MADDOXON checkpoint system works by installing a series of RFID Tags (each with its own unique global identification number) along patrol routes and having patrol personnel perform readings on the tags using a handheld reader.

The recorded tag numbers along with each associated time stamps are later uploaded via communication adapters to computers for processing and verification. The results are displayed on the screen, printed or emailed so that managers can review at once job performance data of the patrolling personnel (attendance, locations patrolled, timeliness, incidents, etc.) The Battery typically lasts for approximately 30 thousand reads before needing to be charged.

A bomb blast turns unprotected windows into dangerous shards of glass. Shattered glazing allows blast pressure to enter a building. Our window films can increase window security and help protect occupants. Have confidence in your window safety solution knowing all Pacific Watchman films have been subjected to a variety of blast testing, to global safety standards.
Our vehicular and stationary military thermal imaging surveillance systems are widely used in tracing, search and security checks under different weather conditions, it includes detecting hidden dangerous places, rescues, suppress smuggling, search, fire protection, military and security protection, president or VIP convoy car security protection use.
A pedestrian detection distance for 1300 ~ 1500 meters and a car detection distance or 1800 ~ 2000 meters.
VEHICLE UNDERSIDE VIDEO INSPECTION
PWUS123S system has the high protection grade design, can work in harsh environments, is widely used on the road, airport, troops, bus station, public security places, customhouse, parking, and other security departments for security checks and so on.

It is a set of automatic acquisition vehicle underside image, display image and contrast image management system. It can effectively prevent the vehicle underside hiding bombs, weapons, biological & chemical dangerous goods and dangerous people into an important place, can also prevent the vehicle underside carrying drugs and smuggling illegal immigrants & materials to pass through checkpoints.

The use of advanced digital imaging system, high resolution, high definition, complete chassis imaging. Very high accuracy, automatic software operation, its operation is very simple. 2. Search & detect a vehicle in motion without stopping, its speed adapts to a wide range. 3. Dynamic video scene image record. Chassis images can be stored and played back. 4, disposable scanning imaging. The digital array technology. Environmental use: IP66 high protection grade design, waterproof and dustproof
PORTABLE AVIATION AND TRANSPORTATION INSPECTION SYSTEM
SECU SCAN Bomb detector can detect black powder and all explosives which are prohibited by ICAO. We adopt PIMS technology (Photoionization Ion Mobility Spectrometry), which is free of radiation hazards.
Highlight Advantages:
High sensitivity: Can detect at least 100 Nanogram black powder, including fireworks and civil homemade explosives.
High speed Identify.
VUV lamp soft ionization technique , non-radioactive.
Database open to user, can add new types of explosives. Unlimited Storage, USB port to output data.
Protecting transit systems from acts of terror presents unique security challenges, on buses and ferries, aircraft and light rail, under bridges or tunnels. Good detection can act as a deterrent.
Detection has long been committed to eliminating threats at airports and on-board aircraft, and is increasingly providing security solutions for mass-transit systems and passenger terminals across the world.
Complete Security Screening for:
Air Cargo
Passenger Checkpoint
Checked Baggage
Perimeter Fence
Customs Screening (Arrivals)
Staff Entrance
Buildings Protection
Emergency Response
Mass Transit
Container Screening
Mobile Cargo Screening
Freight and Cargo Screening
Passenger Terminal
Customs Screening (Arrivals)
Mobile Luggage Inspection
Perimeter Fence
General Security
AUTOMATED DRONE, RC DETECTION AND INSPECTION SYSTEMS
We partner with our company that provides Drones or otherwise known as Unmanned Aerial Vehicles (UAVs) are aircrafts which are remotely-piloted eliminating the need for a pilot to be on board during a given flight. In the civilian life, drones are a common occurrence and hardly will a week pass before you set your eyes on one.
They have an array of applications ranging from being mere hobby gadgets to their increasing use in professional photography and cinematography, intelligence, mapping, reconnaissance as well as target destination besides being used in rescue missions. However, it's their use in military operations that interest us today. Actually, the technology started in the military and nowadays there are several types of military drones that will blow your mind away.
SNIPER DETECTION AND TRACKING
Used on units/armoured vehicles, KENES automatically detects, locates and tracks sniper(s) "prior to and after firing". Employing 360-degree automatic EO scanning, the system features the following capabilities:
Automatic detection of sniper telescopic sight(s)
Automatic detection of potential movements / thermal variations of camouflaged
slow-moving sniper(s)
Classification of detected items, and display of location in artillery coordinates
Detection of the firing barrel and its location based on barrel thermal change by directing to sound source through sound analysis following the shot fired.
Bullet detected in flight, no muzzle flash signature required
Minimize false alarm using MTI feature
Fast detection (~200 msec) over wide field-of-regard
Bullet detection and tracking at ranges of up to 1 km
Back projection to precise shooter
location